To add subtitle for a video you need to follow next steps:
1. Make a new folder and upload your video file along with your .VTT file.
Your caption file does not have to be in the same folder as your video but for the simplicity you can put them together.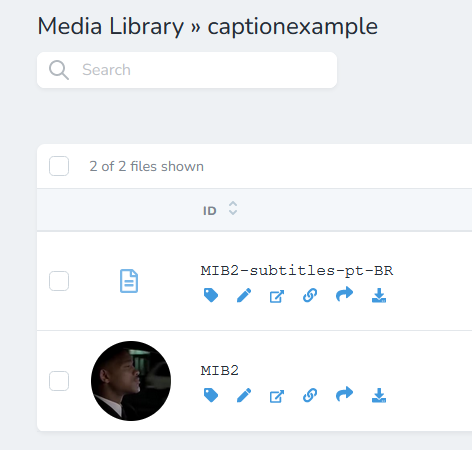 2. To see File subtitle for specific file, simply navigate to file View (eye icon) and look for File Subtitles part below analytics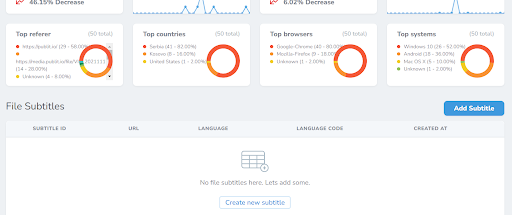 3. Click the "Add Subtitle" button to add a new subtitle.
When you click the button to add a new subtitle you will be prompted with a popup like this one: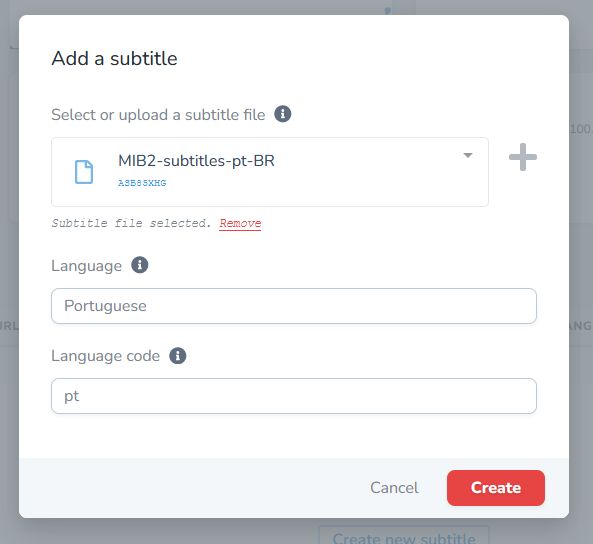 Here you can search and upload a .VTT file, add a language name to your caption.
Keep in mind that this will be the label for the language option inside the player and we have a language code which needs to be a valid BCP 47 language code for example: en for English, sp for Spanish, pt for Portuguese, ect..
If you are not sure about your language BCP 47 code you can look it up on pages like wikipedia: https://en.wikipedia.org/wiki/IETF_language_tag
Note: If you click Remove you will delete connection between your video file and .vtt caption
4. Click "Create" button
Once you click Create, your caption should be available in the player